SAA Bulletin – February 2018
In this issue…
SAA 2018 Arts Congress – Making Art in Dangerous Times
SAA Art Works – Featuring the Chapel Gallery
Loft Event #5 with Minister Makowsky
SAA Presented Creative Activism for Artists Workshop
SAA Board Retreat
Things We've Been Reading
Saskatchewan Aboriginal Storytelling Month
Black History Month 2018 Events
SaskExpress Auditions for the 2018 Summer Tour
Community Cultural Engagement and Planning Grant
Heritage Week
South Saskatchewan Community Foundation Grant Deadlines
Call for Entries: 2018 Next Generation Indie Book Awards
The Filmpool 24 Hour Write-In
Summer Literary Seminars Fiction & Poetry Contest
Copyright for Artists – Free CARFAC SASK Workshop
Applications for CPI 2018 Research Fellowship Program
Your Laugh Line's Humorous Book Awards (AKA: The Yullies)
Saskatchewan Arts Board New Micro-Grant Program
SAA Releases Research Paper
SAA Board of Directors
---
2018 Arts Congress: Making Art in Dangerous Times
May 4th & 5thin Saskatoon
Save the date for the 2018 Arts Congress: Making Arts in Dangerous Times. This biennial event brings together the provincial arts community to share ideas and to celebrate the arts. Confirmed keynote speaker Andrew Hunter is the senior curator at the Art Gallery of Guelph and an instructor at the Ontario College of Art and Design University. As an independent artist and curator, he has produced exhibitions and publications in Canada, the United States, England, China and Croatia, as well as co-founding the international creative research project DodoLab. Hunter has held curatorial positions at the Art Gallery of Ontario, Art Gallery of Hamilton, Vancouver Art Gallery, Kamloops Art Gallery, and the University of Waterloo.
---
Art Works – Featuring the Chapel Gallery
This month in our Art Works series SAA highlights the positive impact the Chapel Gallery is making in North Battleford. Currently the gallery features the work of renowned Saskatchewan artist Joe Fafard. Ken Wilson interviewed Leah Garven, the Curator/Manager of Galleries for the City of North Battleford, about exciting past projects at the Chapel Gallery. Check out the story on the SAA website.
---
SAA Loft Event #5 with Minister Makowsky
For the past couple of years, SAA President Kathryn Ricketts has been inviting guests to her loft residence to enjoy a "salon" series. This past Friday evening Kathryn and the Saskatchewan Arts Alliance were excited to host the Honourable Gene Makowsky, Minister of Parks, Culture and Sport, and other special guests, to Loft Event #5. The purpose of Loft #5 was to showcase local artists with experimental ideas, or works in progress, in an intimate and welcoming setting. This very special evening featured performances by Listen to Dis' (Natasha Urkow and Traci Kluk), Ken Wilson, Ryan Hill, Dominic Gregorio and Kathryn Ricketts as well as an Art Exhibition by Valerie Triggs and Michele Sorenson. SAA thanks Minister Makowsky for joining our event.
---
SAA Presented Creative Activism for Artists Workshop
The Saskatchewan Arts Alliance and Common Weal Community Arts presented very
successful free workshops in Saskatoon on February 2nd and in Regina on February 5th. Nadine Bloch and Juman Abujbara from Beautiful Trouble were the inspiring facilitators for the Creative Activism for Artists workshops. Special thanks to all our participants and to our venues – Saskatoon's AKA Artist-Run and the Art Gallery of Regina.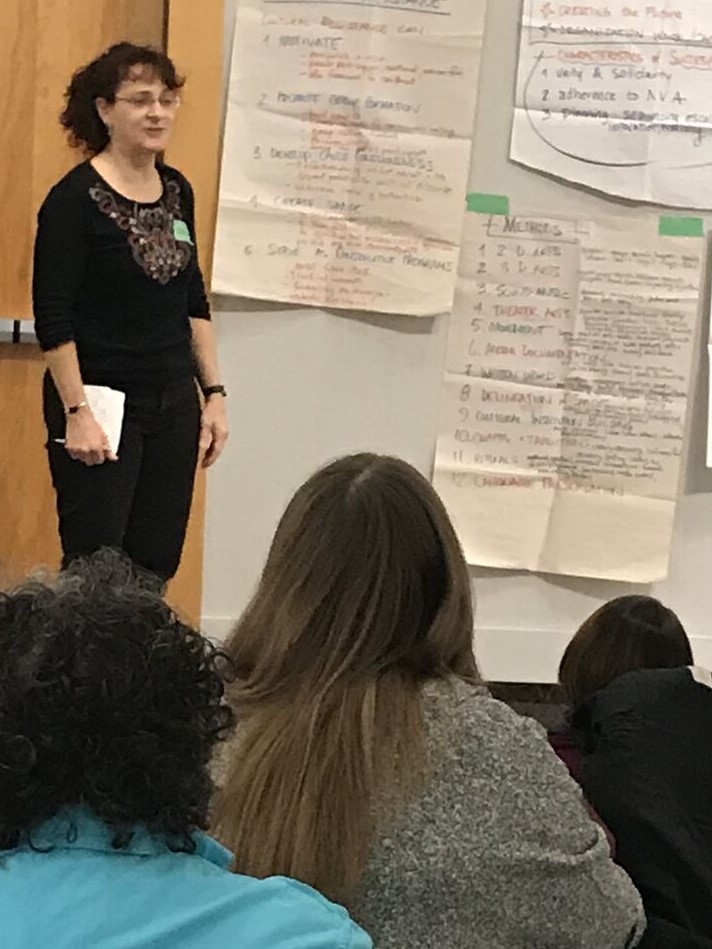 ---
SAA Board Retreat
The SAA Board of Directors had a very busy weekend including a two-day strategic planning retreat. The board discussed short and long-term plans for the Saskatchewan Arts Alliance.
---
Things We've Been Reading
At the SAA a lot of information crosses our desks. We think you might be interested in some of it, for example…
From Createquity.com we found a final round of advice, published on December 22, 2017, based on Createquity's decade of work entitled: Our Recommendations for Arts Researchers (And Those Who Pay Them). Writer Ian David Moss asks the question: "Stronger leadership is needed. But who will step up to the plate?" Topics include:
A collective approach to building knowledge
To get answers that mean something, ask questions that matter
Specific gaps in the literature that we already know about
Call for leadership
---
Saskatchewan Aboriginal Storytelling Month
The Saskatchewan Ministry of Education has declared February as Saskatchewan Aboriginal Storytelling Month. This month First Nations and Métis events are held throughout Saskatchewan to observe the tradition of winter storytelling. The intent is to increase province-wide cultural activity and involve schools, libraries, local agencies, universities, colleges and Aboriginal organizations. This initiative is led by Library Services for Saskatchewan Aboriginal Peoples Inc. For information on events near you, contact your local library or visit the LSSAP website.
---
African-Canadian Black History Month 2018
The Multicultural Council of Saskatchewan invites you to celebrate Black History Month 2018 by attending African-Canadian events and activities in our province. For more information, including a list of some of the special events taking place this month, go to http://mcos.ca/acbhm-events/.
---
SaskExpress Auditions for the 2018 Summer Tour
Saskatoon: February 10th at Emmanuel Church, 607 Dufferin Avenue
Yorkton: February 11that Gallagher Centre, 445 Broadway Street West
Swift Current: February 13th at Kinetic Park, 1700 17th Avenue SE
Prince Albert: February 20th at Prince Albert Arts Centre, 1010 Central Avenue
Battleford: February 21st at BCP Clubhouse, 102 26th Street
Contact SaskExpress at 306-522-3406 or nora@saskexpress.com. More information and applications at https://saskatchewanexpress.com/touring-revue-index/auditions
---
Community Cultural Engagement and Planning Grant
Application deadline is February 15th
The Community Cultural Engagement and Planning Grant (CCEP) aims to support Saskatchewan municipalities and First Nations Bands wanting to explore and plan for the creative and cultural potential of their communities. Check out the grant page on SaskCulture.ca for more details.
---
Heritage Week runs February 19th to 23rd
On Wednesday, February 21st Heritage Saskatchewan is offering the workshop Introduction to Intangible Cultural Heritage (ICH) led by Kristin Catherwood from 1:00-4:30 pm at the Parktown in Saskatoon. Registration is required. Go to https://heritagesask.ca/projects/heritage-week for all the Heritage Week details.
In the evening of February 21st the Yorkton Film Festival, in concert with Heritage Saskatchewan, presents Film Night: Reserve 107 – Reconciliation on the Prairies. This event is free and open to the public in the Westminster United Church at 505 Tenth Street East in Saskatoon. The Film Night includes tours of the church at 7 pm, and the film screening, discussion and refreshments follow at 7:30 pm.
---
South Saskatchewan Community Foundation Grant Deadlines
The South Saskatchewan Community Foundation (SSCF) has some upcoming grant deadlines. Deadline is February 28th for the Moffat Family Fund for programs giving Moose Jaw and district children and families an equal chance in society. The Lorne & Evelyn Johnson Foundation, which promotes social, cultural and other activities deemed beneficial to the City of Regina and other Saskatchewan communities, is due March 1st. Visit the SSCF website for more information on these grants and more.
---
2018 Next Generation Indie Book Awards
Entry deadline is February 23rd
The 2018 Next Generation Indie Book Awards is an opportunity to receive monetary prizes, awards and exposure for your books. All indie authors and publishers who have a book written in English, with a 2016, 2017 or 2018 copyright date, may enter at www.indiebookawards.com. Over 70 prizes, totaling more than $10,000, are available.
---
Filmpool 24 Hour Write-In
Saturday, February 24th at the Saskatchewan Filmpool Cooperative, 301 – 1822 Scarth Street in Regina
The Filmpool's 24 Hour Write–In is a free screenwriting event. It will begin with an hour-long instructional lecture on screenwriting and storytelling by local writer David Gane, followed by 23 straight hours focused on writing. Work on a new screenplay or continue a screenplay you've already started. Food and beverages will be provided throughout. Door prizes will be drawn for at regular intervals and an endurance prize will be given to all participants who last the full 24 hours! The event requires pre-registration. www.filmpool.ca/february-24th-the-filmpool-24-hour-write-in/
---
Summer Literary Seminars Fiction & Poetry Contest
Submit by February 28th
The first-place winners in poetry and fiction will have the choice of attending, with all expenses paid, one of the SLS 2018 programs in Georgia (Summer 2018) or in Kenya (December 2018), and will have their work published in Fence magazine. Each prize includes airfare, tuition and housing. Visit sumlitsem.org/contests for more details.
---
Copyright for Artists – CARFAC SASK Workshop
Saturday, March 10th, 1:00-3:30 pm at Mann Art Gallery, 142 12th Street West in Prince Albert
Free workshop with instructor Grant McConnell. Copyright for visual artists is complex and can seem confusing. This workshop outlines the fundamentals of copyright and best practices for its management in relation to your creative output. Please pre-register by calling 306-763-7080 or email educator@mannartgallery.ca.
---
CPI 2018 Research Fellowship Program
Applications deadline is March 31st
The Canadian Photography Institute (CPI) of the National Gallery of Canada is issuing a call for applications in support of advanced research on the history and criticism of photography. In its second year, the program is intended for photography specialists. This year, priority will be given to research related to the collection on the origins of photography and the collections of the National Film Board and the Canadian Museum of Contemporary Photography. The Fellowship Program includes a full-time residency at the National Gallery of Canada in Ottawa. Successful candidates will receive support from the Gallery teams and access to its resources. Each award is worth $10,000, including expenses and stipends. More information about the program's terms and conditions is available at gallery.ca/cpi/research/fellowship
---
Saskatchewan Arts Board New Micro-Grant Program 
Deadline is April 1st
The new Micro-Grant Program provides up to $1,000 for individual artists or artist collaborations, and $2,000 for arts organizations. The first deadline will be April 1st with deadlines each month. With a simple application form and quick turnaround, this program responds to developing needs and opportunities, creates access for first-time and underserved applicants. Go to the Arts Board website for more information.
---
Your Laugh Line's Humorous Book Awards (AKA: The Yullies)
Submission deadline is April 30th
Your Laugh Line is looking for the funniest book of 2017. All humorous books are welcome. Entry fee is $20. First edition books published in English between January 1, 2017 and December 31, 2017 are eligible. This includes collections of short stories, poems, and essays. Graphic novels will also be considered if they are longer than 150 pages. For a complete list of prizes, rules, entry form, etc. head to https://yourlaughline.com/laugh-line-humorous-book-awards/
---
SAA Research Paper
Dianne Warren's research paper – When Artists Go to School: Effective Teacher-Artist Partnerships in K-12 Schools is now available on the SAA website.
---
SAA Board of Directors
Kathryn Ricketts – President
James Hodges – Vice President
Rob Bos – Secretary
Risa Payant – Treasurer
Kelley Jo Burke – Past President
Mary Blackstone – Member at Large
Daniel Parr – Member at Large
Karen Reynaud – Member at Large
/wp-content/uploads/2022/05/logo_saa_wtag.svg
0
0
SAA Webmaster
/wp-content/uploads/2022/05/logo_saa_wtag.svg
SAA Webmaster
2018-02-06 00:00:00
2022-09-22 13:01:17
SAA Bulletin – February 2018