2017 – 2018 Provincial Budget
2017 – 2018 Provincial Budget: Meeting the Challenge
Today the Honourable Kevin Doherty, Minister of Finance, delivered the 2017 – 2018 Provincial Budget: Meeting the Challenge. In his address, Minister Doherty acknowledged that while the Government will "continue to invest in our arts community and continue to grow a creative economy, there will be reductions in those areas to help us meet the financial challenge."
Those reductions include suspending the Main Street Saskatchewan program and eliminating the Culture on the Go and Community Infrastructure programs.
In other line items, both Creative Saskatchewan and the Saskatchewan Arts Board received about 5% cuts to their budgets. Community Sport, Culture and Recreation Programs saw a 51% reduction and the Heritage Foundation a 40% reduction.
SAA President, Kelley Jo Burke commented that, "We recognize there are budget areas that have seen far greater challenges than we in the arts community anticipate at this point. We are eager to learn how the arts agencies will deal with their reduced budgets because we believe that while government's investment in our sector is small, its impact is large, and helps address our province's long term goals and our need to build an innovative and creative economy leading to economic sustainability."
Following are excerpts from the Parks, Culture, and Sport Estimates. Links to the budget documents can be found at here.
2017 – 18 Arts Related Estimates with Comparisons to 2016 – 17 Estimates (in thousands of dollars)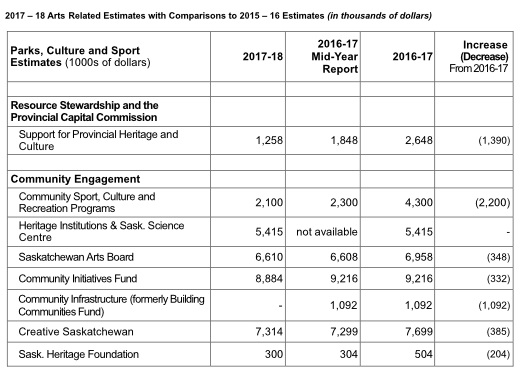 /wp-content/uploads/2022/05/logo_saa_wtag.svg
0
0
SAA Webmaster
/wp-content/uploads/2022/05/logo_saa_wtag.svg
SAA Webmaster
2017-03-22 00:00:00
2023-02-09 13:45:01
News Release