State of Emergence: Why We Need Artists Right Now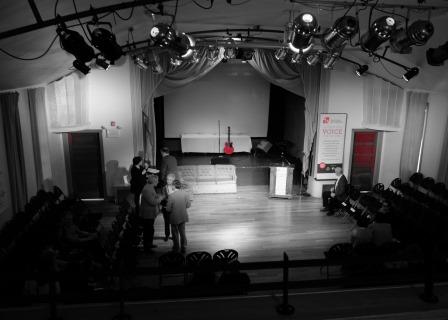 February 18 – Register Now!
2022 Online Event Series
State of Emergence: Why We Need Artists Right Now
The pandemic disruption has amplified the ways in which the systems and policies that shape contemporary Canadian society are producing harmful outcomes for many. A climate crisis. A health crisis. An economic crisis. A crisis of wellbeing. A crisis of spirit. A crisis of care.
Given the existential dilemma we find ourselves in, what would it mean for a society to ambitiously mobilize artists to do their most essential work well and fully, with the aim of catalyzing transformative change? Could the chaotic domain of the artist's creative process be the fertile ground from which a healthier, more sustainable system of cultural production emerges?
Join Shannon Litzenberger and Saskatchewan-based artists Kris Alvarez, Erica Violet Lee, and Yvette Nolan to discuss the unique role artists have to play in this moment of re-emergence and social transformation.
Friday, February 18 | Panel Discussion | 1:30pm – 3:30pm | Zoom
TGIF Social Hour – an informal networking opportunity – 3:30pm – 4:30pm
Panelists
Moderator: Shannon Litzenberger (she/her) is an award-winning dance artist, embodiment facilitator and experienced cultural leader working at the intersection of art, ideas and transformational change. As a dancer and performance maker, her work explores our relationship to land, the politics of belonging, and the forgotten wisdom of the body. She has been an invited resident artist at Soulpepper Theatre, Toronto Dance Theatre, Harbourfront Centre, Atlantic Ballet Theatre, Banff Centre, the Remai Modern, and the Gros Morne Summer Music Festival. She collaborates frequently with the Dark by Five Inter-arts ensemble and the wind in the leaves collective. As a skilled freelance strategist, programmer, leadership developer, policy thinker and embodiment facilitator, she works with leading organizations in the arts, academia, and the corporate sector. She is currently a faculty member at Banff Centre's Cultural Leadership Program; a Program Associate with CPAMO; a guest facilitator at the Ivey Business School; a Pierre Elliott Trudeau Foundation Mentor; and a Chalmers Fellow, exploring the relationship between embodiment, leadership and social change. www.shannonlitzenberger.com
Kris Alvarez is a theatre artist, a Regina monologue. Kris has the privilege of relationship-building through creation & performance with like-spirited humans at Curtain Razors, Fadadance, Artesian and Globe Theatre. With Common Weal Community Arts, a Respond to Racism residency humbled her artmaking, inspiring Golden Potluck – a project centered on diverse older women's voices.
Kris tinkers with her practice as a Curtain Razors Artistic Associate: performing in Bad Blood, Carmen Angel & making What Kind of Brown Are You? Her current show, Burnt Sienna, continues into 2022 after an adaptive 2019-21 digital hybrid series. Moments pre-pandemic, Kris had life-inspiring experiences performing in Reasonable Doubt at Persephone Theatre. In the winter 2020, Kris joined Globe Theatre for a radio play version of The Story. Read more about Kris here.
Erica Violet Lee is a poet from inner-city Saskatoon. In all of her work, she imagines worlds for Native girls where we are loved and free. She tweets @EricaVioletLee.
Yvette Nolan (Algonquin) is a playwright, director and dramaturg. Her works include the plays The Unplugging, the dance-opera Bearing, and the libretto Shanawdithit. She co-created, with Joel Bernbaum and Lancelot Knight, the verbatim play Reasonable Doubt, about relations between Indigenous and non-Indigenous communities in Saskatchewan. From 2003-2011, she served as Artistic Director of Native Earth Performing Arts. Her book, Medicine Shows, about Indigenous performance in Canada was published by Playwrights Canada Press in 2015. She is the company dramaturg for Sum Theatre and the Chair of Common Weal Community Arts. She is currently pursuing her Masters in Public Policy at Johnson Shoyama Graduate School of Public Policy.
https://www.saskartsalliance.ca/wp-content/uploads/2022/02/recept.jpg
320
448
SAA Webmaster
/wp-content/uploads/2022/05/logo_saa_wtag.svg
SAA Webmaster
2022-02-02 00:00:00
2022-11-15 15:32:16
State of Emergence: Why We Need Artists Right Now