Art Works – Rosthern Station Arts Centre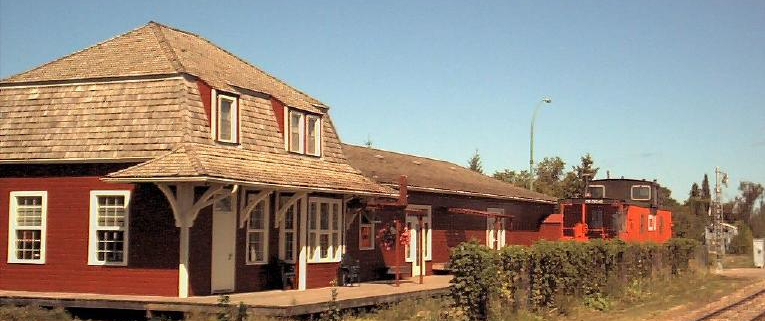 SAA Art Works – November 2017
SAA is launching a new Art Works series to promote our members. Each month SAA will publish an article highlighting an arts organization making a positive impact in its community. This first article features the Station Arts Centre.
Rosthern Station Arts Centre, by Dave Margoshes
Rosthern, population 1,600, is a lot like many other Saskatchewan towns of similar size, except for two things: ten churches and the Station Arts Centre.
Similar towns have curling rinks, community halls and church basements for their cultural and entertainment pursuits. Not many – if any – have a cultural hub like Station Arts.
The centre "is a very important part of our community. It's pivotal," says Mayor Dennis Helmuth. "It makes us very unique because there aren't too many towns that have anything like it."
In operation for more than twenty-five years, the centre delivers plays in the summer (thirty-five shows in the 160-seat theatre) plus music, arts exhibits and various other cultural programs year-round. Some 20,000 people walk through the doors of the refurbished old CN rail station each year, including schoolkids and people stopping in for coffee or lunch at the tea room, or to browse the gift shop, or caboose museum.
The impact on the community, and especially on children, "is really huge," says program director Nicole Thiessen, pointing out that budget cuts in recent years have meant reduced arts programming in schools. "We've made it a focus to fill in some of those gaps and provide those cultural extras that are really important for the kids."
Filling the centre with excited children pays off in other ways too. "The kids love it here and really get engaged," Thiessen says. "They come back and they bring their parents", including some of the recent influx of immigrants to the community who, because of the language barrier, wouldn't be likely to come to the centre otherwise. This fulfills another of its focuses – diversity. That focus on diversity includes programming involving nearby Cree and Metis communities.
The centre is also heavily involved in the annual Culture Days celebrations coordinated every September by SaskCulture. "We're a cultural hub," Thiessen says. "We try to connect communities. That's where a lot of new Canadians get involved."
In addition, the centre taps into programming from the Organization of Saskatchewan Arts Councils (OSAC) to bring popular performers to Rosthern like folkie Stephen Fearing, pop/jazz singer Laila Biali, story-teller Danica Lorer and the hip hop-hoop dance collaboration of Terrance Littletent and Chancz Perry. At these events, locals rub shoulders with fans from Saskatoon and Prince Albert. "They like big city entertainment, but in a small town setting."
Thiessen sees art delivering "a common thread that brings people together, producing an opportunity for conversation and learning about each other. This is more important than ever in the political climate we're living through now."
Thiessen laughs as she recounts how a regular patron was taken by surprise at a concert. A farm couple, "not exactly classical music fans", attended a Baroque concert, not expecting to like it much, but they had season tickets. Afterwards, the woman "was just bawling; she had found it so moving. This was completely out of her zone of what she would choose to listen to. We have those kinds of experiences here often."
For more information: www.stationarts.com.
https://www.saskartsalliance.ca/wp-content/uploads/2017/11/rosthern-station-ws-ext8603.jpg
342
765
SAA Webmaster
/wp-content/uploads/2022/05/logo_saa_wtag.svg
SAA Webmaster
2017-11-28 00:00:00
2022-08-30 16:33:19
Art Works – Rosthern Station Arts Centre