2016 – 2017 Provincial Budget

News Release
June 1, 2016
Today the Honourable Kevin Doherty, Minister of Finance, delivered the 2016 – 2017 Provincial Budget: Keep Saskatchewan Strong. This year the province's priorities are no tax increases, controlled spending, investing in people, and investing in infrastructure.
In the Community Engagement section of the Estimates, allocations to the Saskatchewan Arts Board, Creative Saskatchewan, Saskatchewan Heritage Foundation, and Heritage Institutions and Saskatchewan Science Centre remained at the same level as last year; the Community Sport, Culture and Recreation Programs, and Community Infrastructure lines saw increases.
The big change is the elimination of the Active Families Benefit. In his address, Minister Doherty said, "We believe community-based charities and organizations such as KidSport and Creative Kids will continue to be more effective at helping children from families with lower incomes participate." He noted that, "A similar federal tax credit was eliminated in the recent federal budget." Of interest, the Ministry said it is working on ways to address barriers for families to access arts, culture, recreation and sport programming.
SAA President, Kelley Jo Burke commented that, "Although the Active Families Benefit was eliminated, we are pleased to know that government is looking at solutions to address accessibility to the arts." Burke also noted that, "The fact that funding for the arts and creative industries was retained in these difficult fiscal times demonstrates government's understanding of the importance of the arts and creative industries to the province's sustainability and well-being."
Following are excerpts from the Parks, Culture, and Sport Estimates. Links to the budget documents can be found at www.saskatchewan.ca/budget.
2016 – 17 Arts Related Estimates with Comparisons to 2015 – 16 Estimates (in thousands of dollars)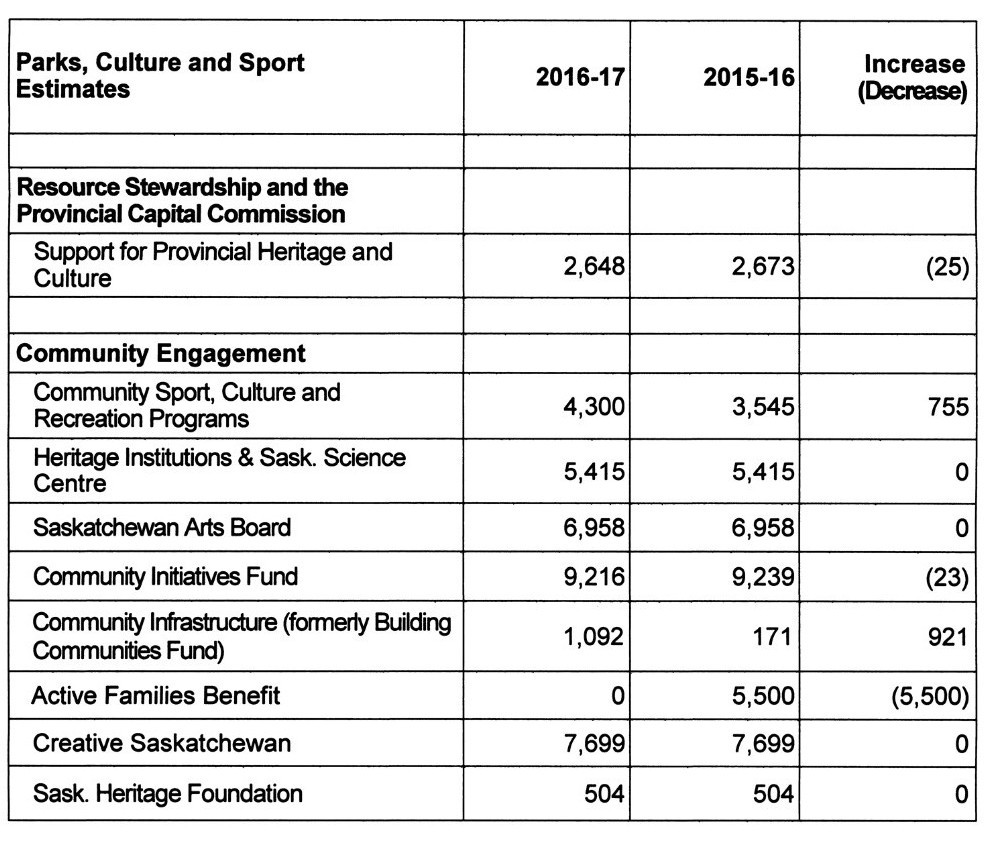 The Saskatchewan Arts Alliance is a non-profit coalition of arts organizations that provides a collective voice for the arts in Saskatchewan. Established in 1984, SAA advocates on issues such as public funding of the arts, freedom of expression and artists' working conditions.
https://www.saskartsalliance.ca/wp-content/uploads/2022/06/ccf21c40-6b67-4d45-b828-b0020b582e22.jpg
847
1001
SAA Webmaster
/wp-content/uploads/2022/05/logo_saa_wtag.svg
SAA Webmaster
2016-06-03 00:00:00
2016-06-03 00:00:00
2016 – 2017 Provincial Budget